How to set up your advertising structure amongst different ad types?

There are lots of advertising options on Amazon and they all have different features, strategies, and results. Based on experience and testing we determine what type of campaigns match best with your assortment and advertising strategies. But most importantly, there needs to be a good balance between the different advertising campaigns. It is important to be visible in different places on Amazon which will eventually result in the best organic and sponsored ranking. Once the campaigns are set up, we make sure that your advertising budget is allocated amongst the best performing campaigns. Additionally, you want to be able to shift between different advertising strategies quickly and effectively.
When we say that a good structure is important to apply different strategies we are referring to strategies such as:
Target mining: moving keywords between different campaigns.
Keyword level: applying bid strategies in 'Exact' match type keywords.
Target ACoS: bid optimizations for your target ACoS.
Keyword bleeders: filtering our bleeding keywords.
Push: creating high visibility on specific keywords or targets.
Boost: boosting campaigns, ad groups, keywords, or targets on particular days.
We create a structure that effectively allows us to implement strategies such as the above on all levels of your account. The image on the right illustrates those levels, we control them from the highest level to the most detailed level.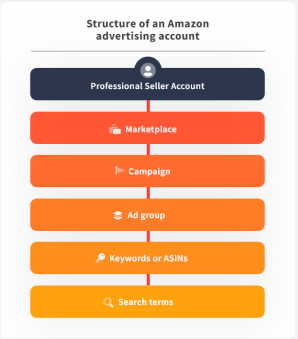 We implement your structure across all countries you are selling in. We create your structure by looking at the following aspects:
The extent to which we need to have control over your keywords and visibility;
Type of assortment and parent/child variations;
Manageability of the campaigns and seasonality of the products;
The left image displays the two most effective campaign structures. We move your keywords between these structures and apply different strategies per match type. Whilst we are constantly mining new keywords, we target your best-performing keywords in exact match ad groups (sponsored and branded advertising) and target your long-tail keywords with Auto and Broad match type ad groups.