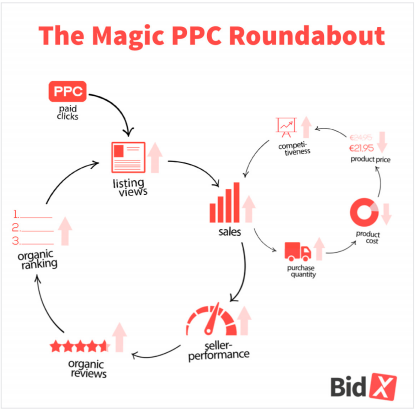 Why is it important to advertise?
Amazon is so competitive nowadays that it is hard to get organic ranking without creating any visibility first. Once your listing is fully optimized and tailored to your customers' needs you need to make sure there are sufficient page views on your product listing. As you can see in the 'Magic PPC Roundabout' getting those first sales on your listings results in better seller-performance, which results in better reviews, which results in better organic ranking and ultimately in more sales. We can also refer to this as getting into the 'flywheel'. Once you are in this 'flywheel' you can optimize your listings based on the data gathered, play with prices, bring down your COGS by bulk purchases and stimulate more sales on all aspects. We recommend always keep advertising as experience has shown that not advertising has a reverse impact on the 'flywheel'. Additionally, if you are not advertising it is your competitor that is showing on the dominant spots on Amazon.
When we start advertising we make sure we do this with the best preparation. We search and target the best performing keywords and in addition to solid keyword research, we also analyze your competitors' high-ranked keywords and include those in our targeting strategy. Once we are advertising we track both your organic and sponsored ranking, we do this by using software as well as manual visibility checks on your most important keywords. Doing this allows us to show your ad on page 1 at the most optimal and cost-efficient bid. We track all this data in a detailed overview separating different campaign types. Next to reporting your sales on a country level, we can do this on a sub-category level as well.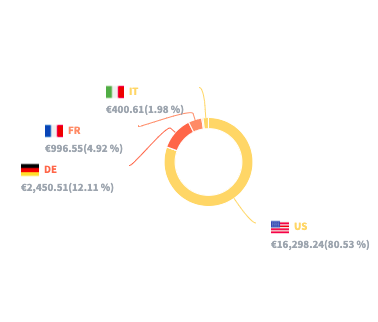 As shown in the magic PPC roundabout, it is important to have a good balance between your total sales and paid sales. Your paid sales have to increase your organic sales and good organic sales create a better sales velocity which allows you to advertise cheaper and more effectively.

Continue to read more about step 4: 'Analyse data'.